IEC News
Safety Is Number 1 at IEC!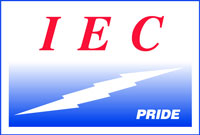 IEC Dallas offers a variety of educational and training programs to benefit the electrician and company owner, management and supervisory staff. IEC's goal in offering these types of programs is to help further the educational level and expertise of those working in the industry. In doing so, we help individuals develop their craftsmanship focusing on quality, safety and knowledge of their trade. Make an impact on your company's safety program by participating in IEC's all-around safety awareness and training programs.

Safety professionals with member firms meet monthly to discuss issues and exchange information and ideas regarding safety in our industry. IEC's Safety Roundtable meets the 1st Tuesday of each month at 3 p.m. Member firms are invited to send their representative to this meeting.

IEC members can order safety manuals, materials and booklets to enchance or complement their company safety program. In some instances, discounts are available to members through cooperative, quantity purchases.

Nationally, IEC Dallas has a representative serving on national IEC's Safety Committee. This group is resonsible for developing programs and materials that benefit our membership.

Member firms are encouraged to participate in an annual "safety checkup" for their firm by completing the IEC SPARK AWARD. The SPARK allows the contractor to check all areas of their company for adherence to strong safety practices. IEC national office provides awards to contactors who enact and follow a strong safety program. The SPARK is presented to members at the IEC national convention. See www.ieci.org and click on safety and then go to SPARK award in the list of items presented.

In Dallas, the IEC provides to its apprenticeship program students safety training each week in their classroom studies activities. It is believed IEC apprentice's are the first line defense in promoting and practicing safety at the job site.

---
New Alliance Will Promote Safety and Health for Electrical Workers in North Texas



DALLAS - Furthering the safety and health of electrical industry workers in north Texas is in the goal of an alliance signed today between the Dallas area office of the U.S. Department of Labor's Occupational Safety and Health Administration (OSHA) and the Dallas Chapter of Independent Electrical Contractors (IEC).

OSHA's alliances are part of U.S. Labor Secretary Elaine L. Chao's ongoing efforts to improve the health and safety of workers. Through alliances, trade and professional organizations, businesses, labor organizations and education institutions are able to participate in a voluntary cooperative relationship with OSHA for training and outreach aimed at preventing workplace injuries and illnesses.

"This is an opportunity for OSHA and members of the electrical industry to come together through forums, roundtable discussions and meetings to discuss the safety and health issues faced by electrical workers on a daily basis," said Stephen Boyd, OSHA area director in Dallas. "The alliance will increase awareness of hazards associated with electrical work and various building trades."

IEC is a trade association of more than 3,200 electrical and systems contractors within 75 chapters nationwide. Members of IEC and OSHA will develop a plan of action based on mutually agreed upon working procedures, roles and responsibilities for the participants. Quarterly meetings will be held to track, analyze and share information on activities and results in achieving the goals of the alliance.

For more information on this alliance or about forming an alliance or partnership with OSHA's Dallas area office, call (214) 320-2400. OSHA has created more than 300 alliances nationwide with organizations committed to fostering safety and health in the workplace.

Employers are responsible for providing a safe and healthful workplace for their employees. OSHA's role is to assure the safety and health of America's workers by setting and enforcing standards; providing training, outreach and education; establishing partnerships; and encouraging continual improvement in workplace safety and health. For more information visit www.osha.gov.